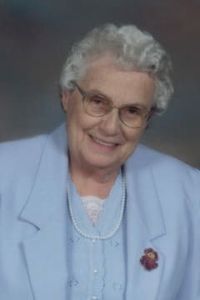 Obituary For Lorna M. Lozon
Lorna Marjorie (Booker) Lozon entered into eternal rest July 2, 2021, two months shy of her 95th birthday.
Born to Russell and Mary (Whaley) Booker on September 1, 1926, Lorna lived most of her life in the Union-Port Stanley area, blessed with life-long friendships and rewarding work. Older sister Mary (Burke) Fishleigh and younger brother Joe were much-loved and respected companions on her journey.
Lorna attended St. Thomas Collegiate Institute, and set her sights on her mother's profession, teaching, completing studies at the London Normal School. She began her career in Becher, Ontario, outside of Wallaceburg, teaching in a one-room schoolhouse. While there, she met the love of her life, William A. Lozon. She taught in Yarmouth Township including Seminary School on the Sparta Line, and Littlewood (in north Yarmouth), and completed her career at Port Stanley Public School, first in the original schoolhouse at the bottom of the hill, and then in the new facility by the arena. She loved her students and continually sought ways to serve and support them. She retired in 1985.
Lorna and Bill married in 1950 and settled in Union, soon welcoming son Jeff and daughter Mary Joan. They welcomed daughter-in-law Donna Doherty in 1976 and son-in-law Roger Hahn in 1978 to the family, and were delighted with grandchildren who followed – Alicia and Nadine Lozon, and Ian and Lauren (her namesake) Hahn. Lorna was the proud grandmother-in-law of Vincent de Lapeyre and Kelvin Journal, and the loving great-grandmother of Victoria, Mateo, Thomas, Lucas, and Rosie. She was a beloved aunt to numerous nieces and nephews, and friends and neighbors also will mourn her passing.
Throughout her life Lorna enjoyed many hobbies. She was accomplished at needlework and loved to knit, crochet, embroider, smock and tat. She was an avid reader. Lorna was also a talented cook, particularly renowned for her chicken and dumplings, and peach custard pie. Lorna and Bill enjoyed several extended car trips and excursions around Canada and the U.S. Gatherings with family and friends were the center of their lives.
Following Bill's death in 1988 Lorna continued travels with friends and family – visiting Spain/Morocco, Arizona, Hawaii, Edmonton and Spokane, Washington. She enjoyed the fellowship of service as a member of the Oddfellows and Rebekah's Lodge in Port Stanley. She co-founded The Lakeshore Ripples chapter of the Red Hat Society after moving to the Kettle Creek Villa in 2004. She became a prolific poet, composing odes and verses regularly. She was a lifelong member of Union United Church.
Following a 90th birthday celebration, Lorna moved to Oakville to be closer to family, first residing at the Chartwell Retirement Center, then to Northridge Long-Term Care Center, where skilled nursing care supported her final years.
Lorna will be interred in the Union Cemetery next to her husband, with funeral service at Williams Funeral Home, 45 Elgin St., St. Thomas on Wednesday, July 21st at 1:00pm. In lieu of flowers, donations of remembrance may be made to Union United Church.
Donation Link: http://uuc.gillard.ca/
Send flowers to the service of Lorna M. Lozon
Login to add your own photos and video
Add New Photos & Video
Honor the life of Lorna M. Lozon
Offer words of sympathy and comfort, share a memory or light a candle.
Add a Candle
Click a candle below to add a candle to your message.
---
Flowers are delivered by the preferred local florist of Williams Funeral Home.
For Customer Service please call: 1-888-610-8262
---
Flowers are delivered by the preferred local florist of Williams Funeral Home.
For Customer Service please call: 1-888-610-8262
To leave a condolence message, add photos, or add videos, please login with your name and email.